01 Feb 2022
Re-Open Right Hacks with SRA: Olio x Lexington Catering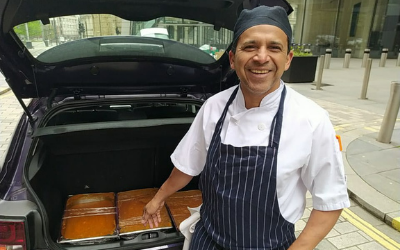 Restaurants have been stretching every sinew to get customers to eat out again and, almost as importantly, make them feel safe and comfortable enough so they return. Many though, have also taken steps to ensure that this isn't at the expense of the planet, their staff, or their suppliers.
Sustainable Restaurant Association members large and small from across the UK, have been making Herculean efforts to serve their customers once again with sustainability front of mind.
Read on for a cracking example of exemplary post-lockdown-practice in minimising food waste. Lexington Catering is just one of our fantastic members who epitomise the phrase 'Re-Open Right'. There are dozens of ways operators can have a positive impact on the planet and their pocket. For more member examples of Re-Open Right Hacks click the link below.
Olio x Lexington Catering - Rescuing food surplus from food waste
How do you solve a problem like food waste in 48hours? It was tough enough pre-pandemic. But when offices suddenly closed and events were cancelled by lockdown, foodservice and caterers in particular, were faced with a potential mountain of waste.
Lexington Catering, a long-time SRA member serving client sites across London, was determined that its now surplus food should be eaten.
Enter OLIO, the food sharing app and its army of Food Waste Heroes, to ensure the surplus food from Lexington's sites reached hungry bellies. Continuing their partnership since those challenging early lockdown days, and Lexington and OLIO have together rescued over 13,000 meals from waste.
The success of the partnership with OLIO whet Lexington's appetite for more creative ways to prevent food going to waste during the pandemic. Principally, to halt a pile up of food waste from their suppliers, quality ingredients were transformed into over 70,000 meals for 22 local charities and hospitals during the pandemic. With meals and menus produced through a zero waste approach, peels and offcuts were turned into soups, stews, salads and sandwiches. Frontline staff at a Kent hospital were given jars of strawberry jam made with fruit from suppliers intended for hospitality events that were cancelled, thanks to quick thinking from Chef Director Rob Kirby.
Lexington and its sites across London are just some of the 4,000 foodservice sites OLIO has supported to redistribute food nationwide, with their nifty app feeding 400,000 portions of food to people in need since the start of the pandemic.
There seems to be a renewed focus on food waste as hospitality reopens. So, if there ever was a time to tackle the source of food waste in your business, and redistribute any ingredients that are leftover, if not now, when?