22 Mar 2022
Hospitality innovation in the spotlight at HRC 2022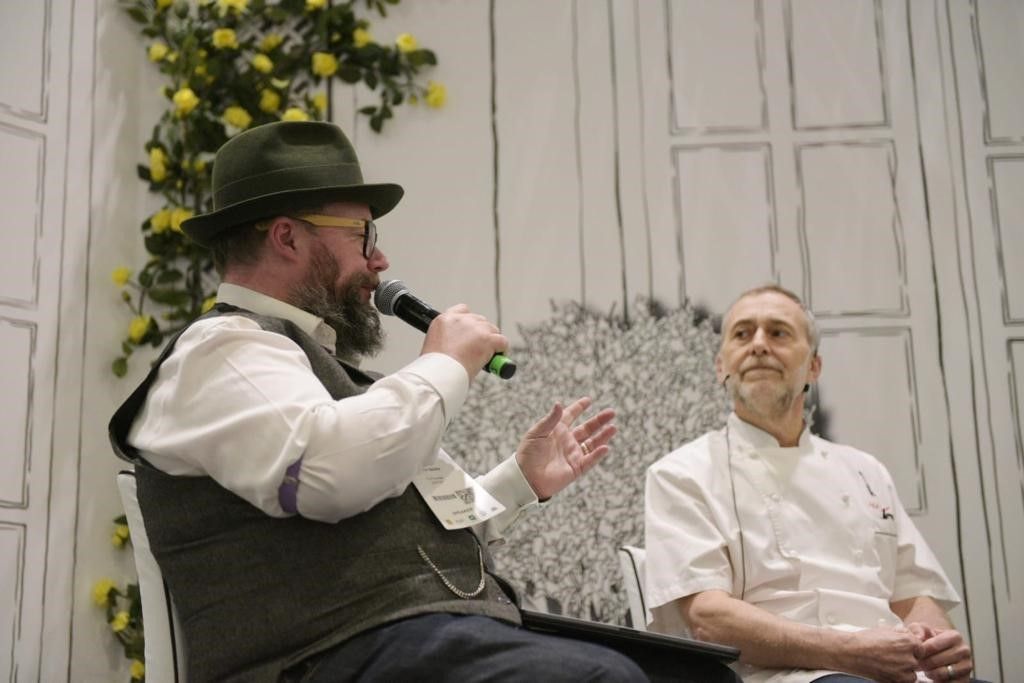 Day Two of Hotel, Restaurant & Catering saw suppliers continue to engage with a wide range of prospective clients across hospitality and foodservice, while the show's Vision Stage, designed by Harp Design and curated by EXP101, saw fascinating discussions about some of the most important trends and issues in the industry.
The day kicked off with a fascinating discussion on building communities in hospitality, followed an insightful discussion from Dan Nash, Brand Strategist/ Founder at SixEight Agency, Sara Stark, Marketing and Creative Director at Dishoom, Annica Wainwright, Co-founder of 2Forks and Jack Edge, Marketing Manager for Mission Mars on telling brand stories.
The keynote session of the day featured the show's Chef Ambassador Michel Roux Jr, who was joined onstage by Kieron Bailey, Co-Founder of EXP101, Ruth Hansom, Head Chef of The Princess of Shoreditch, Adam Bateman, Culinary Director at The Grand Hotel and Kris Hall of The Burnt Chef Project to discuss the vital topic of changing kitchen cultures and mental health in hospitality.
Andrew Aston, BaxterStorey Head of Wellness and Nutrition, remarked on how he found the show, saying: "I can honestly say that I'm leaving HRC with a real spring in my step. It's hospitality at its best: friends, culinary competitions, skills tests, demonstrations, great products and equipment all under one roof. I've loved it."
Exhibitor Scott Duncan, MD of UNOX, added: "We're really happy here at UNOX. The show's been good, the number of visitors has been excellent, the quality of the people has been excellent. We've had lots of large groups - pub groups, restaurant groups, hotel groups, travel & leisure and some of the big QSR - we used the show to make some appointments and there has been a real appetite for people to get back out and about and we've already re-booked for 2023 on a bigger stand."
International Salon Culinaire
During a special VIP fireside interview between Michael Roux Jr and James Stagg, Editor of The Caterer, Roux commented: "Salon Culinaire is such an inspiration for young chefs to be with their peers and to compete and show their level and their belief. It's wonderful and should be encouraged."
The competition saw two major categories take place on Day Two of HRC: Tilda Chef Team of the Year 2022 (Sponsored by Tilda Foodservice in association with The Craft Guild of Chefs) and Craft Guild of Chefs National Chef Team of the Year 2022 (Sponsored by MSK Ingredients).
The Google RA team, comprised of William May and Tarisa Reid, won Silver Awards and Best in Class.
The live final included guest judges Café Spice Namaste Chef Patron Cyrus Todiwala; National Chef of the Year winners, Nick Smith and Steve Groves; Vice Chair of the Craft Guild of Chefs Mark Reynolds; Course Coordinator for the International Culinary Arts Diploma at Westminster Kingsway College - Miranda Godfrey; Graham Crump, Editor of the BCF News Magazine; Stuart Pate, Head Pastry Chef at The Seafood Restaurant in Padstow and representing Tilda Foodservice, Jo Witchell.
The teams had just 45 minutes to prepare, cook and present a Festival of Flavour Menu that included four portions of a main course and a dessert using Tilda speciality rice. The 16 chefs pulled out all the stops to showcase their skills and created Tilda inspired recipes for Carnival, Diwali, Mardi Gras, Africa Day, Thai New Year, Easter and Christmas.
Speaking after the final, Reid said: "It's amazing to win – I cried - I'm so happy with the result. I'm from the Caribbean and as Carnival is such a big festival, I chose dishes that I personally enjoy, I love 'Cook Up'. For desserts we took fruits, nuts, spices and seeds from the Caribbean and created a pudding that really celebrated all these ingredients and made the most of Tilda rice. I've competed in Tilda Chef Team of the Year before and so to come here and win with William means everything."
The Craft Guild of Chefs National Chef Team of the Year was won by Tottenham Hotspur FC, with Andrew D'Amery, Nathan Racey and Rick Owens winning a Gold Award and Best in Class.
Find out more at internationalsalonculinaire.co.uk.