21 Mar 2022
Celebrating the pub sector on Day One of HRC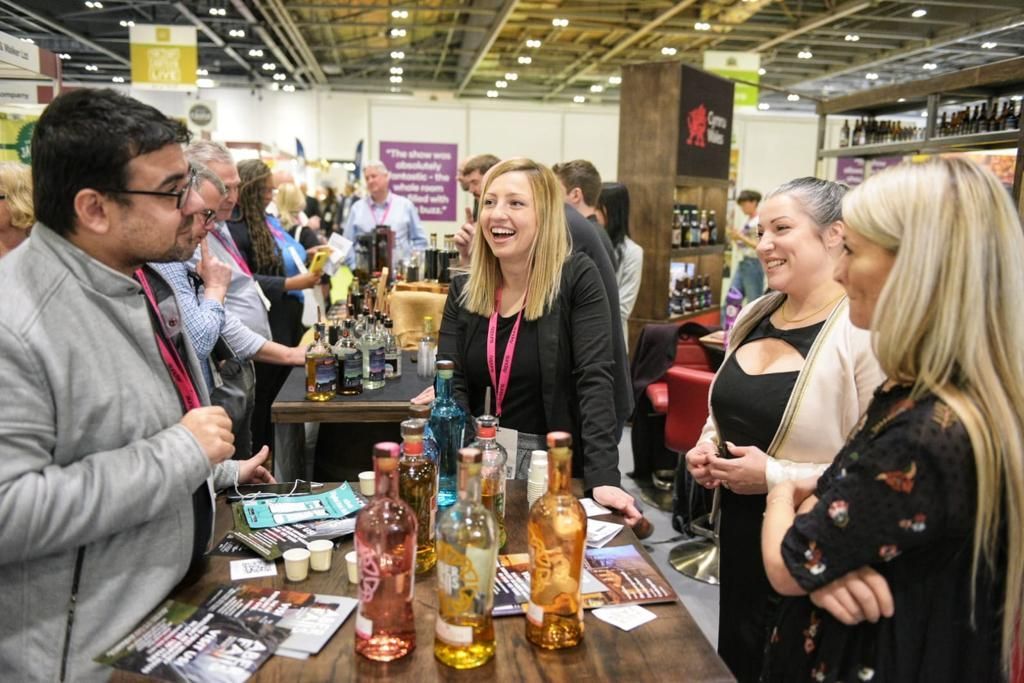 Hotel, Restaurant & Catering (HRC) returned to ExCeL London today alongside IFE, International Food & Drink Event, IFE Manufacturing and The London Produce Show.
Hoteliers, restauranteurs, caterers and hospitality business owners flocked to the show to discover the latest new products and innovations across foodservice, hospitality tech, design & décor and professional kitchen equipment.
Ronda Annesley, Event Manager for HRC, commented: "It's so fantastic to be back at HRC after a long two years, reuniting with old friends and welcoming our amazing community of hospitality and foodservice professionals and hundreds of talented British chefs.
New for 2022 was the addition of The Pub Show at HRC, where publicans and bar owners could source pub-focussed products and sample a range of drinks in popular feature The Taproom from Anspach & Hobday, Big Smoke Brew Co, Brouwerij Haacht, Full Circle Bew Co, Old Street Brewery and Siren Craft Brew.
Flightcase Bars, a supplier of unique mobile draught systems built into rolling flightcases, provided bars for the taproom, while Digital Interlock Software showcased innovative digital pump clips designed to remotely and digitally update a bar's on-draft options.
On the show's Vision Stage, designed by Harp Design and curated by EXP101, KAM unveiled some new industry research followed by a session focussed on the return of the pub sector post-pandemic.
Katy Moses, Founder & Managing Director of KAM was joined onstage by Steven Alton, CEO of the British Institute of Innkeeping, Louise MacLean, Business Development Director at Signature Pubs, Anthony Pender, Founder of Yummy Pubs, James Nye, Managing Director of Anglian Country Inns and Joby Mortimer, National On-Trade Director at Brakes.
Pender commented: "By bringing so many events together under one roof, HRC and its associated shows make it a worthwhile day out of my business to really take stock and look for future innovation. A great day well spent."
Other sessions on the show's Vision Stage and Tech X Stage included a presentation from Pubs Code Adjudicator Fiona Dicke, an insightful session from Rehan Uddin of the Asian Restaurant Owners Network and an in depth look at hospitality design trends with David Chenery, Founder and Director of Object, Space, Place Limited, Claire Smith, Director, ABDA Design, Hamish Kilburn, Editor of Hotel Designs, Alon Baranowitz, Architect at Baranowitz + Kronenberg and Irene Kronenberg, Interior Designer at Baranowitz + Kronenberg.
Kronenberg commented: "There is evidently a shift towards higher and more sophisticated levels of authenticity, practicing local culture, craft, sustainability, and a keen sense of community care. We see hospitality and lifestyle venues morphing into full-service lifestyle platforms where they become a hub of a destination. People will travel less yet for more extensive periods of time and would rather improve their quality of life, seek the essential and the joyful through new means - senatorial, emotional, and cognitive expressions.
"The hospitality sector has the magic potential of setting us on a journey without us going anywhere. It is a great catalyst in that sense. We are beyond the point of sleep-eat-drink-experience-repeat. We are at the brink of a new era, the eco-system era."
At historic chef competition International Salon Culinaire, which was celebrating its 120th year, new competition category Pub Chef of the Year Best in Class award was won by Chef Sam Seedhouse of the Bird in Hand in Butcombe.
Learn more about everything happening at HRC 2022 at hrc.co.uk.