Taurus® Mycook 1.8 Food Processor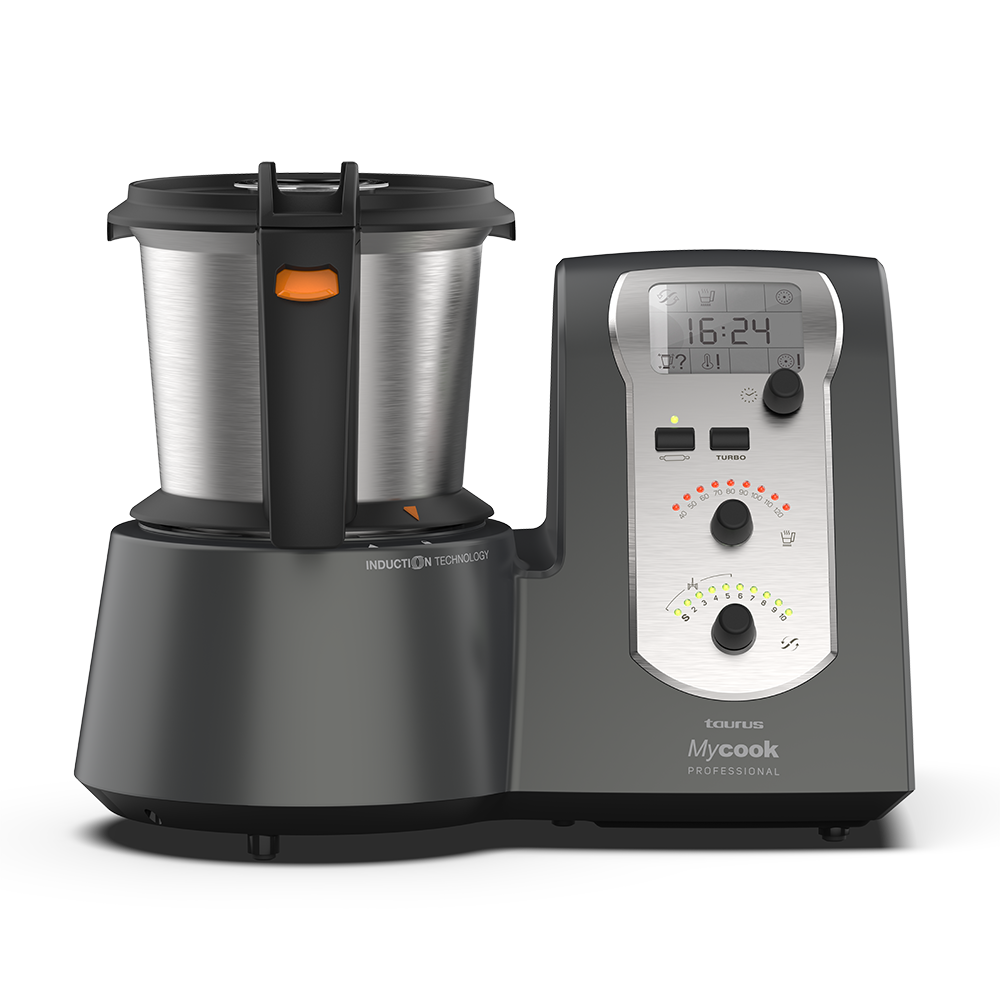 The professional induction-heated kitchen robot.
The Taurus® MyCook 1.8 Food Processor is the
must have tool that all chefs desire. Replace the
clutter in your kitchen with MyCook Professional,
the all-in-one kitchen appliance capable of
performing 15 various kitchen processes;
MyCook is the helping hand you always wanted.
Mix, grind, cook, emulsify, knead, powder, shake light fry
and melting, are just some of the features from the Taurus®
MyCook 1.8 Food Processor.
It has a powerful 800W motor for mixing and a 1000W
induction heater reducing the time to reach desired
temperature by half and making MyCook the most powerful
appliance in its class. The motor is separated from cooking
zone and has 10 mixing speeds + a Turbo function. The
triple wall 2L bowl made with stainless steel and aluminium
is specially designed for induction cooking and has a safety
closure lid & measuring cap. The high resistance blade
has 4x stainless steel knives and the Knife hub dismantles
quickly without any tools for easy cleaning. MyCook is
supplied complete with butterfly mixing paddle, spatula &
cookbook on DVD.
The MyCook 1.8 includes in its base an induction plate that
allows heating on the jar thanks to the electromagnetism
principle. The heat is uniformly spreaded on the low part of
the jar, and combined with induction, cooking is much faster
and efficient.
A secure special jar with a 2 litre capacity. The Taurus®
MyCook 1.8 Food Processor uses a triple-wall jar
combining stainless steel and aluminium specially designed
for induction heating. The cover has an orifice to insert
ingredients progressively, measuring cup, special stainless
steel 4-knife blade, all parts easy to clean and with security
features for a save operation.
The Taurus® MyCook 1.8 Food Processor includes a very
intuitive display for an easy, fluid and secure use. Stainless
steel cover for a long-lasting life. Ergonomically designed
backwards tilted for easy viewing.
Categories
Professional Kitchen Equipment
Technology