SousVideTools® Compact 28 Litre Water Baths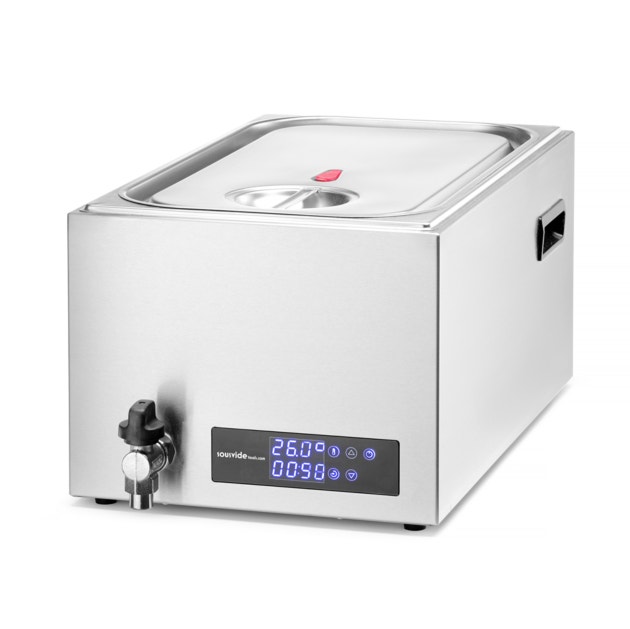 The new SousVideTools 28 Litre Compact Water
Bath comes with a new touch screen. It has a bright
blue display that can be seen across the kitchen. It has
been designed for the professional chef due to a solid,
contemporary design. Accuracy and consistency is
guaranteed through the PID controller, that controls the
temperature to within 0.1°C, meaning perfectly cooked
food time after time.
Food can be separated easily via the 4 or 6 move-able
stainless steel partitions. This allows for the vacuum
pouches to be separated during the cooking process,
allowing for greater portion control. They separate the food
into different sections for easy identification when cooking.
They can also separate products that have just been placed
into the bath (and therefore not regenerated) from those
'on hold' ready to go.
This water bath has been designed so that the heater and
temperature sensor are positioned under the inner tank to
help optimise temperature control.
The water moves around the bath via natural convection.
The removable lids minimises evaporation and helps to
maintain the water baths temperature.
This model features a low water level protection, meaning
should you or a colleague accidentally turn the water
bath on empty or allow the water level to drop below the
minimum required the water bath will shut off and sound an
alarm ensuring the water bath remain undamaged.
This water bath is easy to use, offers energy efficiency and
is simple to clean. It is fitted as standard with large LED's,
optical and acoustic alarm signals for time and temperature,
and a stainless steel lid. SousVideTools water baths are quick
and easy to set up. Simply select the desired temperature
by operating the buttons on the 'positive feel' membrane
control pad. A large illuminated digital display - readily visible
from across the kitchen - gives you instant confirmation of
the set temperature at all times within 0.1°C
KEY FEATURES
+ Sleek all-in-one design
+ Precise temperature control to 0.1°C between
operating temps of 45°C to 90°C.
+ Digital LED display to 0.1°C
+ PID temperature control
+ 0 mins 99 hour counter
+ Lid with a rubber seal to stop moisture loss
+ Offers exceptional temperature sustainability
+ Splash proof keypad
+ Dry running protection
+ Cycle end audible beeping
+ Energy efficient engineering
+ Quiet operation
+ Push button simplicity
+ Lid doubles as drip tray for pouch transport
+ Counter worthy style in a small footprint
+ Overheating protection and water level sensor
+ 2 Year Parts and Labour Warranty
+ 28L Dimensions: 300(h) x 330(w) x 600(d)mm
+ 28L 6 stainless steel partitions
Categories
Professional Kitchen Equipment