Senses 300 Chamber Vacuum Packer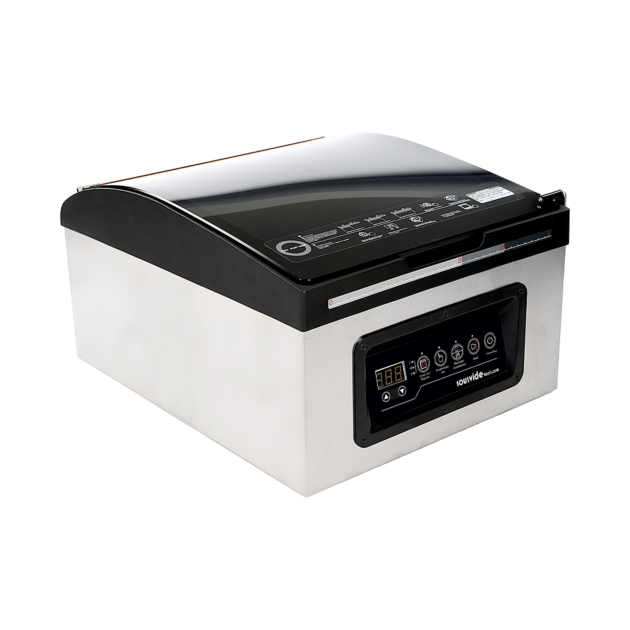 The SousVideTools® Senses 300 Chamber Vacuum Packer
allows you to vacuum seal & package anything - including
liquids. Its maintenance-free design provides professionallevel features at a home cook's price.
The SousVideTools® Senses 300 Chamber Vacuum Packer
is a machine that will work for you. This vacuum sealer takes
the chore out of vacuum packaging and delivers a strong,
complete seal every time. The SousVideTools® Senses 300
Chamber Vacuum Packer is reliable, maintenance-free,
and easy-to-use with the ability to extend food's shelf life
for five times longer than outdated traditional storage
methods.
Let the SousVideTools® Senses 300 Chamber Vacuum
Packer take your vacuum packaging experience to a new
level. This machine is engineered to be user-friendly, but
with endless possibilities for commercial use. Adjustable
vacuum and seal methods offer a variety of packaging
options. The seal timer is adjustable to allow for a variety
of bag thicknesses and the vacuum cycle time adjusts
from 0 to 60 seconds for different package amounts and
consistencies. The machine also has an instant seal function
which will immediately start the seal process.
To vacuum package, place the bag inside the chamber, close
the lid, and the process starts! Air is sucked out of the entire
chamber, not just the bag itself, allowing air pressure on the
inside and outside of the bag to remain equal and liquids to
stay in the bag. The bag is then sealed and air is returned
back into the chamber
KEY FEATURES
+ Compact size, suitable for commercial and
household use
+ Extends the shelf life of food
+ Effectively vacuum seals liquid and wet food
+ More user-friendly design: Add bag-clamp
device inside the vacuum chamber, so you can
place and fix the bag easily
+ Save time: use large displacement pump to
increase vacuum speed
+ No need of normal filler plates
+ Adjustable cycle time and seal time
+ Instant seal function
+ Vacuum gauge display vacuum level directly
+ Compact Size
+ Seal bags up to 30cm
+ Simple and intuitive touch control panel
+ Power: 380 Watt
+ External Dimensions (HxWxD mm): 257x367x446
+ Chamber Dimensions (HxWxD mm): 100x310x330
Categories
Professional Kitchen Equipment
Technology