NE-SCV2BPQ Accelerated Cooking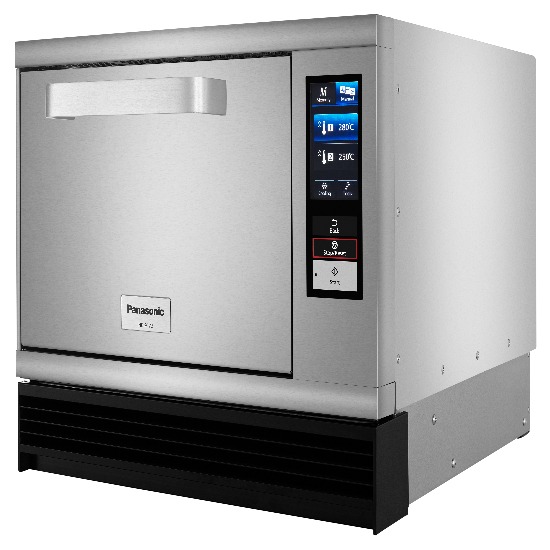 The Panasonic SCV-2 Speed Convection Oven is the ideal solution
to cook, toast, bake, grill and reheat a wide range of fresh or frozen
foods, such as toasted sandwiches, pastries or pizza, in fact anything
needing a crisped, browned finish. Increase customer satisfaction
by reducing waiting time. The SCV-2 Speed Convection Oven ensures
great results and enhanced profitability.
STACKABLE UNIT
The Panasonic SCV-2 offers maximum flexibility as it
easily fits onto a small worktop. In addition, you can
double your capabilities thanks to the oven's stackability,
allowing you to add a second oven, without using
additional space, at no extra cost.
INVERTER TECHNOLOGY
Panasonic exclusive Twin Inverter technology, cooks food
evenly with no cold spot, consistently providing optimum
cooking results.
VENTLESS COOKING
Touch display for easy and fast use. Ventless cooking
operation thanks to the built-in catalytic converter.
Easy-to-clean inside cavity to reduce cleaning time and
simplify maintenance.
ACCESSORIES
The Panasonic SCV-2 comes with a number of
accessories to offer versatility for any kitchen operation.
MENU FLEXIBILITY
The SCV-2 SD card enables rapid menu changes and
updates with up to 999 recipe and menu settings.
Plus, operator's own food images can be uploaded
to the control panel for quick and simple selection in use.
EASY MAINTENANCE
Easy to clean inside cavity and ceramic base tray reduces
down-time and simplifies day to day maintenance
Categories
Professional Kitchen Equipment