myPOS Go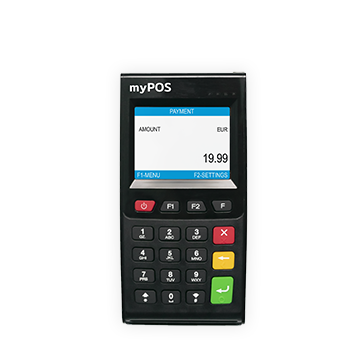 The myPOS Go stands out as being compact, multifunctional and affordable. Its small and portable body makes it the best debit and credit card machine for any small business in the UK. It accepts contactless and mobile payments as well as chip and pin and magnetic cards.
This portable card reader is eco-friendly - requires no consumables as it does not use a receipt printer. Instead it issues electronic receipts that can be sent to customers via email or SMS. This payment terminal has a constant wireless connection via 3G, making the Go a reliable choice for almost any business.
Buying the myPOS Go is for independent merchants who would like to own a mobile and pocket-sized card reader that comes at a reasonable price while packing a large number of value-added services. In addition, the credit and debit card payments that go through your POS device are instantly settled in your free to register multi-currency myPOS merchant account. When your business starts to grow, the multi-operator mode and tipping feature help for hassle-free tracking of employee's performance and tip reports.