Fresco 400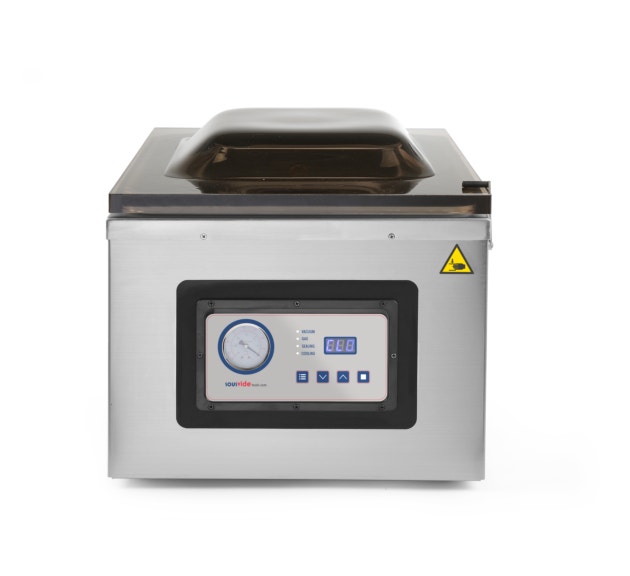 The SousVideTools® Fresco 300 & Fresco 400 are compact,
easy to use and reliable. These vacuum packing machines
provide the ideal solution for businesses that require
an incredibly hygienic and cost-effective solution for,
consistent, simple vacuum packing.
The SousVideTools® Fresco 400 features a 16m³/h
SousVideTools® Vacuum Pump & a 400mm Sealing Bar.
Full vacuum takes 15-30 seconds. The maximum bag size is
400mm x 450mm. It features an easy-to-use digital control
panel & easy-to-read pressure indicator. 2 year warranty.
The Fresco 300 and Fresco 400 are made entirely of a
stainless steel construction, including the internal structure,
vacuum chamber and bodywork, thus guaranteeing robust
and reliable machines. They feature simple to use controls
and 8m³/h and 16m³/h SousVideTools® Vacuum Pump as
standard, so it remains consistently powerful in operation.
The Fresco has been designed to reduce the work surface
space required meaning that it can be used anywhere. With
this vacuum packing machine hygiene was a key priorities
so the machine was designed with rounded corners so no
food debris can get stuck and a sealing bar that is simple to
remove. When using this machine for Sous Vide cooking the
double seam closure not only seals the pouch but prevents
contamination of the water bath. This machine is a cost
effective vacuum packaging solution
KEY FEATURES - FRESCO 400
+ Sealing bar length of 400mm
+ SousVideTools vacuum pump 16m3/hr suction
+ Timer controlled vacuum
+ Machine cycle: 15-30 sec
+ Vacuum "quick-stop" as the push of a button
+ User friendly and low maintenance
+ AISI 304 stainless steel housing
+ Simple to use electronic control system
+ Convexed lid for extra height
+ Easily removable sealing bar for cleaning
+ Extremely easy to clean
+ Deep chamber with round corners
+ Full CE approval
+ External Dimensions: 472(h) x 495(w) x 567(d)mm
+ Internal Dimensions: 160(h) x 425(w) x 457(d)mm
Categories
Professional Kitchen Equipment
Technology