Eddie™ – Edible Ink Printer for Easy Direct-to-Food Printing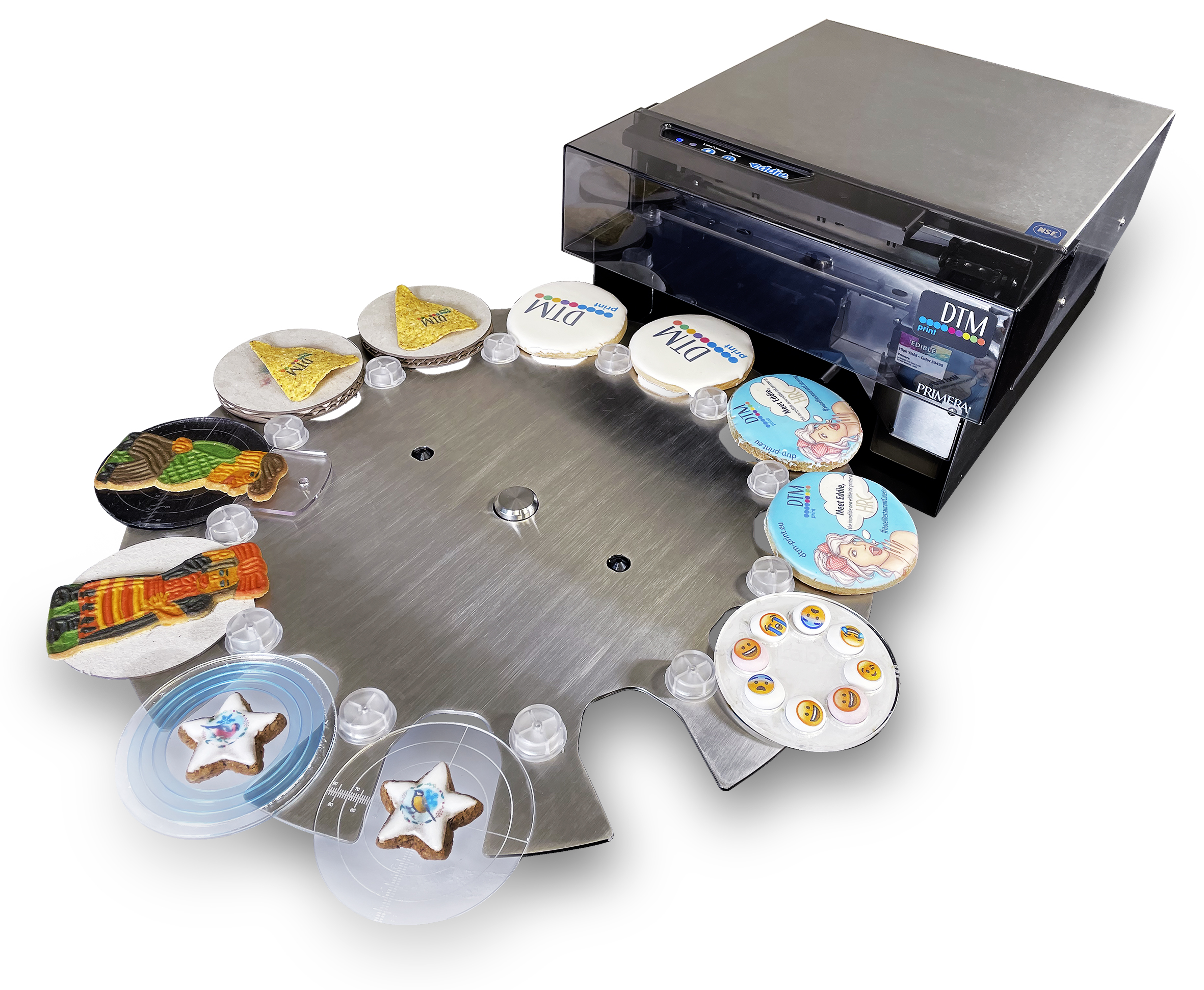 Eddie – the world's first-and-only NSF and GMP-certified edible ink desktop printer for printing onto cookies and other food items. It opens up new profits with the ability to print full-colour photos, logos, designs and text directly onto the surface of these food items.
Eddie makes the printing process fast and easy. The machine prints up to 6 print objects per minute, depending on the item size and actual print design. The included carousel feeder rotates the food items to the print position, the printer pulls in one item at a time, prints and sends them back to the carousel – all automatically and hands-free.
Printed sweets, cookies or other food items will be dry and ready for sale immediately after printing. Printed images are bright, vibrant, smudge-resistant and even colour-matched to ICC Colour Standards.
Personalisation is all the rage in today's consumer and B2B markets. Eddie can produce new profits in commercial settings from bakeries to hotels, tradeshows, gift shops and amusement parks. Applications for personalised baked goods and confectionery include birthday parties, baby showers, religious initiation ceremonies such as baptism or bar/bat mitzvahs, weddings, anniversaries, Christmas and holiday gifts, trade show giveaways and souvenirs.
Eddie is unique in the commercial food preparation business for many reasons, but none as important as for safety. Although edible ink printers have been sold and utilised in commercial applications such as photo cakes for more than a decade, none of them have been approved for this use by recognised, third-party certification organisations, making producer liability a serious concern.
Eddie was instead designed from the beginning to meet or exceed all regulatory requirements for the specific purpose as an edible ink digital printer. The edible ink cartridge meets all FDA and EU standards for use as a food additive. The ink cartridge itself meets cGMP standards and the entire manufacturing and cartridge filling processes are FDA-compliant and cGMP certified. Last but not least Eddie has also been certified by NSF.