09 May 2022
Shifting kitchen cultures with Michel Roux Jr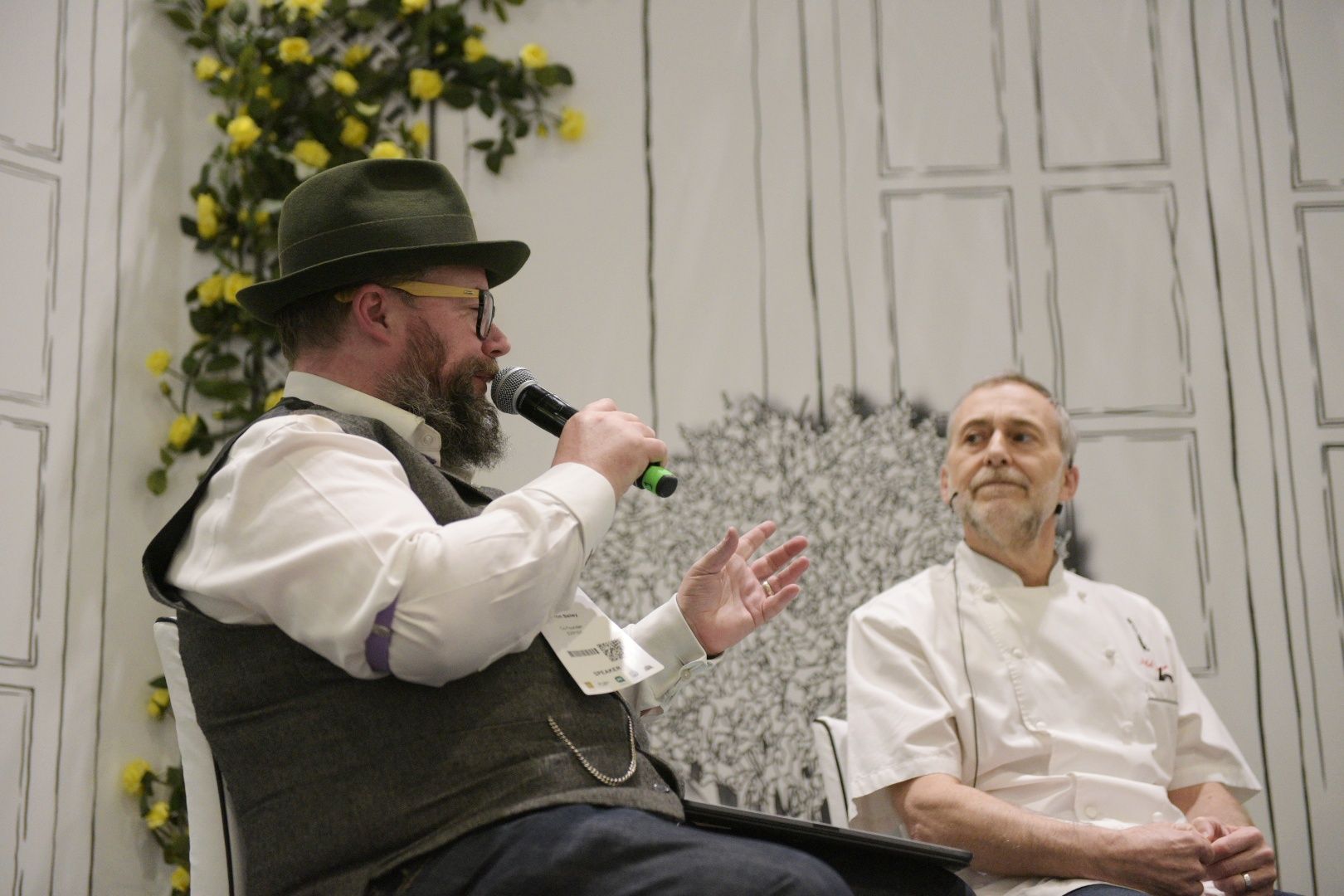 On the second day of HRC 2022, EXP101's Kieron Bailey was joined by an all-star panel comprised of celebrity chef Michel Roux Jr, Ruth Hansom, Head Chef at The Princess of Shoreditch, Adam Bateman, Culinary Director & Executive Chef at The Grand Hotel and Kris Hall, Founder of The Burnt Chef Project to discuss shifting kitchen cultures and what true leadership means in a modern kitchen.
Today (9 May) sees the beginning of Mental Health Awareness Week in the UK, a topic of huge importance to the hospitality sector. The conversation around shifting kitchen cultures is inevitably one about mental health, and what employers can do to support their teams and be vigilant to warning signs in their kitchens. As the panel in this session point out, cultures are slowly shifting towards greater empathy, flexibility and understanding, while still pursuing culinary excellence and and world-leading UK cuisine, and more inclusive kitchens are beginning to reap the rewards.
Read on for a taste of the discussion, or view the full session here.
Shifting kitchen cultures
The session kicked off with a nod to the industry's historic reputation for intense working environments, long hours and minimum wage roles.
Michel commented: "Some of the past is what we don't want to see anymore, but we can't ignore it. As an industry we have to look at it and have the balls to say, 'that wasn't good'. There's been a massive improvement in my lifetime but we still have a heck of a long way to go."
Kris added: "Often you find yourself in a position where you're managing a group of people and you haven't been given a choice, let alone training."
Ruth commented on the ongoing culture of 'that's the way we've always done it' or 'that happened to me so that's what I'll do', adding "Burnt Chef and other projects are empowering young chefs coming through the ranks to say thing's aren't right and to make a change."
Changing ways of working
The panel discussed how, at a time when the industry is facing significant recruitment challenges, new and more flexible working hours are opening doors for new types of workers to join the team.
Ruth pointed out that The Princess of Shoreditch has recently changed to a four-day week: "It's really helped. Everyone treats each other with more respect and they're more rested."
Adam added that at The Grand Hotel they've taken on a number of women who are mothers, catering for the work-life balance with 10am to 2pm shifts: "These aren't traditionally good kitchen hours, but it's enabled us to look at other areas of production."
Michel pointed out that "successful businesses are going to have to be fluid and adaptable with different hours and shifts. We need to be more creative with our workforce and more open. As high-profile chefs we need to advertise that there's a job for everyone in our industry."
Kris added: "It's will vs skill. Do they want to be in a diverse and creative environment? Are they willing to apply themselves? It's possible to have happy and healthy working cultures with a 60-hour week, provided that everything else balances out. You need to feel valued and that you belong. You need to feel that you have a say, have a work-life balance and that you're seen as an individual and not a number. If you're not focusing on the core of your business, which is the people, then your P&L will suffer and your business will fail."
What makes an effective leader?
When it comes to leading a team in the kitchen, Michel commented: "There are certain areas that people will shine in and it's up to us as head chefs and employers to find that, to find what they're good at and make them shine. I think it's simple, but in a busy kitchen it can be less so. It's about finding the ability in each individual and using that ability.
Adam added: "For me it's empathy, it's understanding and working with those individuals. Getting to know what makes them tick and spending time with them, which again is the challenge in a busy kitchen. Understanding what drives them.
Kris pointed out the continued lack of people with disabilities working in the hospitality industry, saying: "We are cutting out a whole diverse, eclectic mix of individuals who are naturally gifted in so many different ways, just because they don't conform to what we expect of someone who works in hospitality. Anyone with an underlying mental health issue for 12 months or more is classified as disabled, and four out of five people we spoke to in hospitality has experienced a mental health issue during their career. We already have disabilities in the workplace in this moment and time."
Ruth commented the The Princess of Shoreditch has an employee who's deaf and autistic, adding: "They're a great member of the team, it's just about making the rest of the team aware that they need to be flexible."
Check out the full discussion, filmed on 22 March 2022, below: