01 Feb 2022
Re-Open Right Hacks with SRA: No.1 Harbourside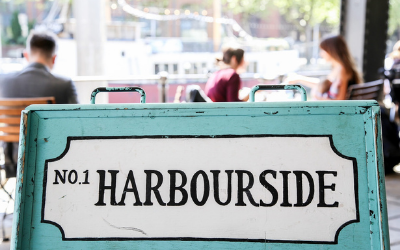 Restaurants have been stretching every sinew to get customers to eat out again and, almost as importantly, make them feel safe and comfortable enough so they return. Many though, have also taken steps to ensure that this isn't at the expense of the planet, their staff or their suppliers.
Sustainable Restaurant Association members large and small from across the UK, have been making Herculean efforts to serve their customers once again with sustainability front of mind.
Read on for a cracking example of exemplary post-lockdown-practice in championing local produce. No.1 Harbourside is just one of our fantastic members who epitomise the phrase 'Re-Open Right'. There are dozens of ways operators can have a positive impact on the planet and their pocket. For more member examples of Re-Open Right Hacks click here.
No.1 Harbourside - Championing local, sustainable veg
The clue is in the name; No.1 Harbourside is very close to the water. It's the connection with the land though that this Bristol bar/restaurant has chosen to champion – even more so since re-opening in July.
The menu at this SRA member has always championed local, sustainable produce. Lockdown just served to take this approach to the next level.
Everyone is a winner. Committing to sourcing organic fruit, veg and salad from Edible Futures upon reopening has allowed the local market garden to up production on its two-acre plot. And what's good for the grower is good for the chef. Completing this virtuous circle is the customer, who is being treated to even more delicious, nutritious veg-led dishes including a tempura courgette special that has been flying out of the kitchen since the restaurant re-opened. Any produce No.1 Harbourside can't use is eagerly snapped up by its sister sites in the city, reducing waste and increasing margins.
Their tips for other restaurants; engage with neighbouring eateries to build local food networks and increase buying power to support local producers, and shout about these suppliers to customers, to showcase to the public what's grown right on their doorsteps. Feeding the public appetite for food from their local larder.