18 Jul 2022
Meet the design partner: Harp Design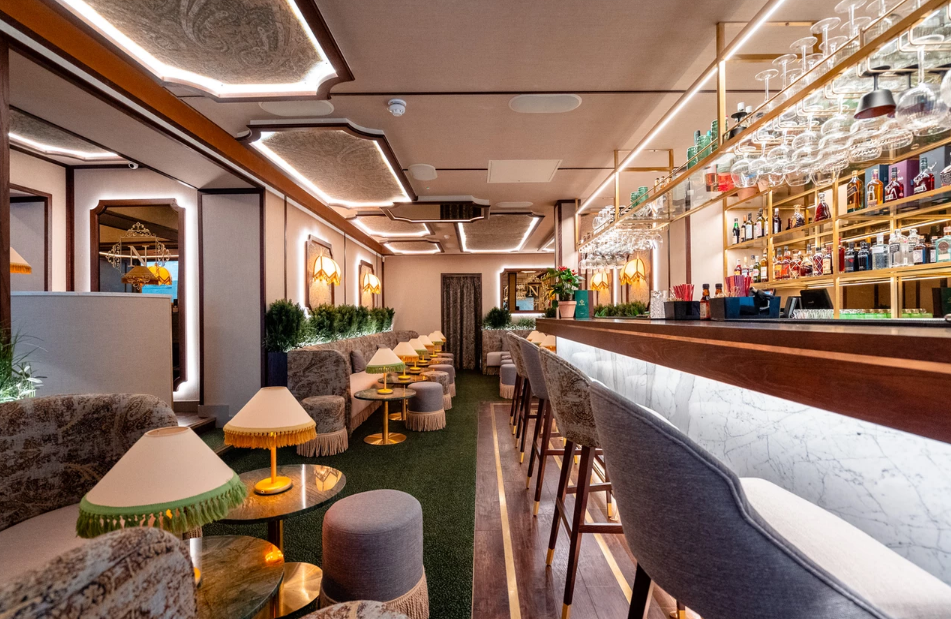 Each year, HRC works with fantastic design studios to bring the show's stages and feature areas to life. Hospitality design studios with a passion for the industry and the creativity to match.
In 2022, the show's Vision Stage was designed by the brilliant Harp Design who constructed a striking 2D, black and white, cartoon-inspired stage to host the show's packed seminar programme.
We're delighted that Harp Design are returning for 2023's edition, and caught up with Founder Hayley Roy to learn more about the business, and what it takes to be a design partner for HRC.
Hi Hayley, we're so excited to once again be partnering with Harp Design! How did you find the 2022 event?
We had so much fun last time, it was brilliant. I can't wait to see what the team come up with for next year. Emma, our lead designer is managing it this time and she's really excited about it. We've got quite a lot of work out of HRC already so I'm really looking forward to seeing what happens next year.
Tell us about a recent hospitality project Harp Design has undertaken
Spanish restaurant & bar El Norte (pictured above), which opened at Christmas. The ceiling was so intricate it took about a week to get in designed. We've almost overengineered the lighting on purpose to create an environment where they have full control and can turn it right down at night and up during the day.
It's really important in restaurant and hospitality venues because they're used for so many different things. You need the daytime environment, the night-time and the ability to clean it effectively. It has to be really flexible and adaptable.
Where do you find inspiration for hospitality projects?
A lot comes from the clients. I always listen hard and try to find out who they are, what they're trying to achieve and who they're trying to target. Of course fashion has an element to play; it has to be current. But in general everything a client says paints a picture of what the final result needs to be.
We did a design trends report for 2022, which talks a lot about sustainability and making connections between the inside and the outside. Biophilic design, for example is huge, and it's all about sustainability and being eco.
It's also important to make sure that the acoustics are right; noisy restaurants can be incredibly off-putting. It also depends on the purpose of the space: if you want people to in and out quickly you can make it less comfortable and more efficient. It's about subtly communicating the type of venue and the function of the space. People might not consciously notice it but they do react to it.
I come from a hospitality background - my parents and sister have had restaurants and pubs - and I know how important it is for everything to flow for the people working there. If the staff aren't happy then the customers won't be happy.
We also have suppliers come into our office regularly to do CPD sessions. I think it's really important that we continue to develop ourselves professionally and that's very much our ethos as a practice.
What differences do you see in designing for hotels vs restaurants?
Hotels have to be everything: they have to be living rooms and dining rooms and somewhere to work, and to appeal to a broad range of guests. We're currently designing Wivenhoe House Hotel in Colchester and having a lot of fun considering the work from home environment.
Restaurants can be more specific and targeted. Everyone is so individual and that's why I love doing what I do. We work with a lot of entrepreneurs and they've all got their own vision of what they want to be and who they want to target. It's really fun to create that.
To stay up to date with the latest news from HRC, subscribe to our newsletter. If you're interested in becoming a design partner for our 2023 event, please email Ilona.Horoszko@montgomerygroup.com.