Interview with Scott Duncan, Unox UK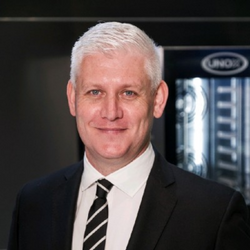 "Hi, I'm Scott Duncan, managing director of Unox UK, and we supply a wide range of ovens to all catering sectors, with a focus on innovation. We're supporting HRC and I'm looking forward to seeing you there in March."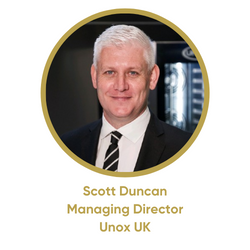 Why HRC?
HRC is a huge show and we knew we wanted to be involved as much as possible. Events like this give us a fantastic opportunity to listen to and learn from the industry, but also to offer our own support too. By exhibiting, sponsoring the Salon and getting actively involved with HRC Connects, we can provide expertise and insight to help operators overcome their kitchen challenges.
It's very important for us to give back to the industry, which collectively has been through some very difficult times over the last 18 months.
What's important to consider when developing a new product or product range in 2021/22?
I think it's vital to think about the challenges that kitchens face today. It might be efficiency, space or deskilling, or it might be about changing trends and the shift to click & collect operations. But any new product must be able to help caterers overcome their challenges through innovation.
Why are you looking forward to getting back to a live event?
I love the industry we work in and we've obviously not had many opportunities to get together with friends and colleagues in recent times. I'm really looking forward to doing that, particularly after the disappointment of missing last year. You can't beat the buzz of a live event.
What will visitors see and experience at your stand?
Our focus is on developing products that help chefs and caterers to overcome their everyday kitchen challenges and we'll be showcasing products that help do that. The SPEED.Pro speed baking oven, the EVEREO hot fridge and the CHEFTOP MIND.Maps big compact slimline trolley oven are all great examples. There will also be a chance to see the MULTI.Day hot vacuum pump, for sealing hot food in minutes.
On top of that we're the exclusive Salon Culinaire combi oven partner so visitors will get to see our ovens in use in the competition cooking theatres. I'm looking forward to seeing what the chefs produce with them.
Can you describe HRC in three words?
Can I get away with four? Unmissable, inclusive and eagerly-awaited.
Find the Unox supplier showroom on HRC Connects here.