Interview with Camille Vidal, La Maison Wellness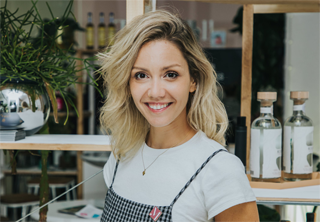 We caught up with Camille Vidal, Founder of La Maison Wellness, to discuss mindful drinking, the low & no drinks movement and her advice on developing a diverse drinks offering for your business.
Please could you introduce yourself to our readers and give a little insight into your background and experience?
My name is Camille Vidal, I am the founder of La Maison Wellness a platform dedicated to inspiring people to drink well and live well with mindful cocktail and healthy hedonist lifestyle.
I have spent my entire career in hospitality from restaurant to cocktail bars before becoming the former global ambassador for the French liqueur St-Germain which I did for almost a decade sharing the art of the aperitif and being known as Madame St-Germain. I have won many awards and accolades including Tales of the cocktails World best ambassador and most recently Bar World 100 most influential figures.
I absolutely adore our industry and I have been on a mission to inspire the trade to bring more balance into their lifestyle as well as showing the world how to bring mindfulness into the glass.
Covid-19 and lockdown raised awareness on the importance of self-care. Have you seen a growing interest in health and wellbeing through mindful drinking?
Absolutely, I think Covid-19 by forcing us into hibernation, gave us more time to think and to look after ourselves. Many of us in the industry have taken the importunity to build healthier habits and to put self-care into practice and hopefully as we slowing emerge from Covid-19 into a new reality we take our learnings with us and make them a part of our new lifestyle.
The No & Low category is evolving with some fantastic innovations coming to market. Are there any products you are seeing an increased interest in and demand for?
The No & Low category is booming with some really incredible products being launched either mimicking some of our all-time favourite spirits to give options for moderation, or new innovative products giving new meanings and opportunity to drink differently, there is a lot to be excited about.
The beer category is as always thriving with some really great breweries like Big Drop brewing co, a non-alcoholic brewery with a very delicious and impressive range or Small Beer and their amazing low abv beers.
The aperitif category is also growing fast with incredible products like Everleaf, a bittersweet aperitif made with loads of botanicals in a sustainability conscious way, to products like Aecorn a bitter aperitif made from Verjus to Martini entering the category with two incredible non-alcoholic aperitif made by their highly experienced and legendary blenders.
The category is really expanding, brining loads of options with companies like :yes who has a range of 13 non-alcoholic spirits from rum to gin to coffee liqueur to vermouth to really allow to make non-alcoholic or lower in abv classic cocktails.
Are there any products you think have valuable health benefits?
We've seen a few products offering that like Wild-Life Botanicals a non-alcoholic sparkling wine, known as the Bubbles with Benefits with their amazing botanicals and vitamins added to their wine.
Three Spirits is also a great options for a delicious drinks made with active ingredients with functional benefits it's like the power in nature in a bottle, they extended their range this year and Nightcap and Liverer is a great addition to the family.
And of course we've seen CBD kicking off which I think it one definitely to explore, but do some reading about the brand you choose, I'm a big fan of OTO CDB bitters which allows me to add the power of CBD to my mindful cocktails.
What top tips would you offer retailers and hospitality establishments to prepare their low and no offering for autumn?
Check out lamaisonwellness.com get in touch for advice and menu creation! In all seriousness my advice is start taking it seriously, not as something you have to have on your menu for the potential pregnant women customers but for all the people that want to drink more mindfully and moderate sometimes. Too often I see No & low offer at the back of the menu, reflecting the lack of inspiration or understanding of how important this is. So put more thought into creating an inclusive offer for all and you will discover an exciting world where tasty does not have to be boozy and your guests will appreciate that. Happy to share and provide recommendations!
Any suppliers you are most excited by? If so, what makes them so exciting?
Wise Bartender has an amazing range of non-alcoholic products and probably the widest offer. More and more distributors are on board, like proof drinks and even Cask Liquid Marketing.
Thanks Camille for your insights! If anyone in the industry wants to get in touch, what is the best way to reach you?
Email is probably the easiest cami@lamaisonwellness, also you can always find info on social media @lamaisonwellness @madame_cami_vidal