How your hospitality business can contribute to the world's climate goals with Olleco's help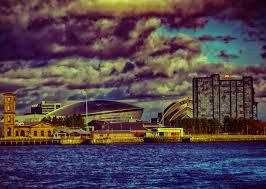 With COP26 about to take place in Glasgow, there's no better time to examine how sustainability in the hospitality industry can play a part in addressing the world's greatest problems. The climate goals agreed at COP21 in Paris, in 2015, set out how we could avert global catastrophe by limiting global warming to 1.5 °C above pre-industrial levels. Fuelled with new scientific information, delegates will, no doubt, be looking at whether new goals have to be agreed and examine what more needs to be done if we are to stand a chance of meeting the goals set in Paris. Every business can take action to make a real difference and we are proud to be helping the UK's hospitality businesses to minimise their
impact on the climate
in a number of ways.
What is COP and why is it so important?
COP stands for "Conference of the Parties" and it is the UN's annual Climate Challenge Summit. Since these summits began, nearly three decades ago, they have transformed from being fringe events, to become headline news, attended by some of the most powerful people on the planet.

The reason is simple, we are now living in a world in which storms, floods and wildfires are intensifying. Where air pollution affects the health of tens of millions of people and new, unpredictable weather patterns are destroying homes and livelihoods.

But, while climate change is having devastating impacts on us, advances in tackling it are leading to cleaner air, creating rewarding jobs, restoring nature and unleashing economic growth.

The only problem is that we are not acting fast enough to address the runaway changes that scientists are reporting all over the planet. And the delegates at the conference will be under extreme pressure to rise to new challenges and accelerate change.
So how can a single restaurant make a difference?
It might be tempting to think that there is not much a small business can do to affect these global problems. However, the small changes we can all make, add up to huge impacts and everything we do, no matter how small, will make a difference.

The used cooking oil that your business produces is a hugely valuable resource. It is the most environmentally sustainable feedstock available to make biodiesel. As a result, Olleco's biodiesel can help reduce vehicles' greenhouse gas emissions by up to 88%. The biodiesel can be used to power fleets or blended with the fuel sold to motorists at garage forecourts.

The UK Government estimates that we produce 250 million litres of used cooking oil every year. That could create enough biodiesel to fuel 330,000 average-sized cars, so you can see how capturing every drop of used cooking oil can add up to a huge impact.

Another environmental benefit of ensuring that your oils and fats are all recovered for processing is that it reduces the risk of fatbergs. These accumulations of sewage and fats cost the UK roughly £100m a year*. They are caused when people and businesses dispose of cooking fats and oils into the sewer network. The energy required to clear each of the 300,000 fatbergs amounts to a huge environmental cost as well as a financial one.*

We're also helping customers reduce the carbon impacts of their cooking oils by collecting your used oils in the same vehicle we deliver your fresh oils. This cuts the environmental cost of delivery by 50% reducing the number of vehicles on the road and the associated pollution.
Food for serious thought
A worrying development that will face the COP26 delegates in Glasgow is a new report revealing the role of methane as a greenhouse gas. According to the IPCC, around 0.3°C of the 1.1°C that the world has already warmed by, comes from methane. The UN estimates that methane has a 20-year warming potential that is up to 86 times higher than CO2.**

60% of global methane emissions are man-made and over half of those come from food**. While farming is responsible for more than half of those emissions, most of the remaining proportion comes from food waste in landfill sites. So, ensuring that you minimise food waste and segregate all of your unavoidable food waste to be collected for processing is vital.

The food waste we collect delivers you an additional environmental benefit because it is used to make renewable energy rather than simply being composted. Our anaerobic digestion plants extract the methane from food waste to make biogas and electricity. After processing, the residual materials are then used to make a low carbon organic fertiliser which reduces the planet's dependence on chemical fertilisers - another major source of greenhouse gases.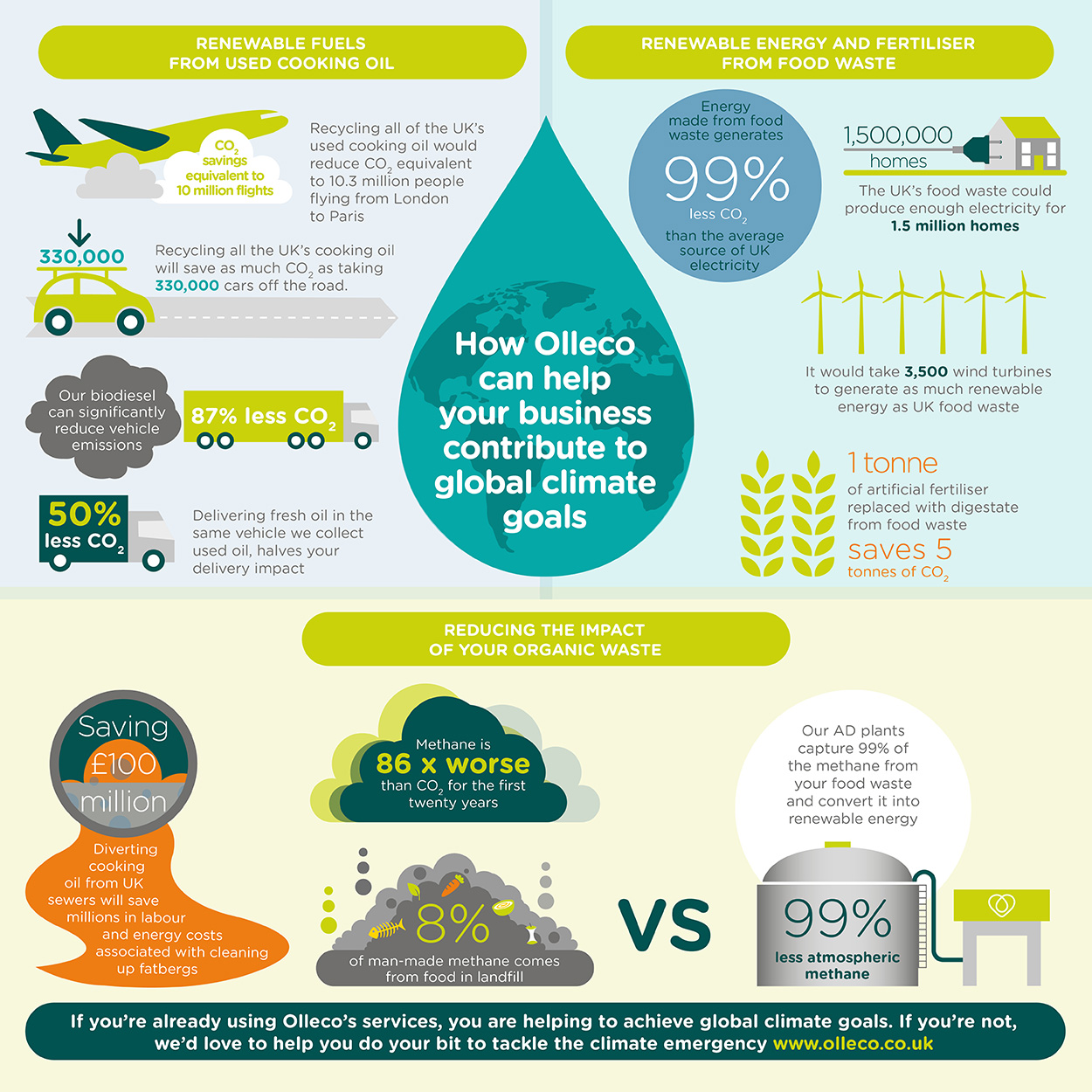 Useful resources
We have outlined just a few of the ways you can play your part, contributing to the world's climate change goals. There are lots of other actions you can take, we've compiled a list of resources you may find helpful to get you started.
WRAP
Sustainable Restaurant Association
Zero Waste Scotland
Hubbub
Summary
Our Climate Emergency Services can greatly reduce the impact of your food business on the world's climate. Whether you're an existing customer who would like to know more about what we can do, or a new customer wanting to know how we can help you help the planet, please get in touch. We'd love to hear from you.