15 Mar 2022
Bringing HRC's Vision Stage to life with Harp Design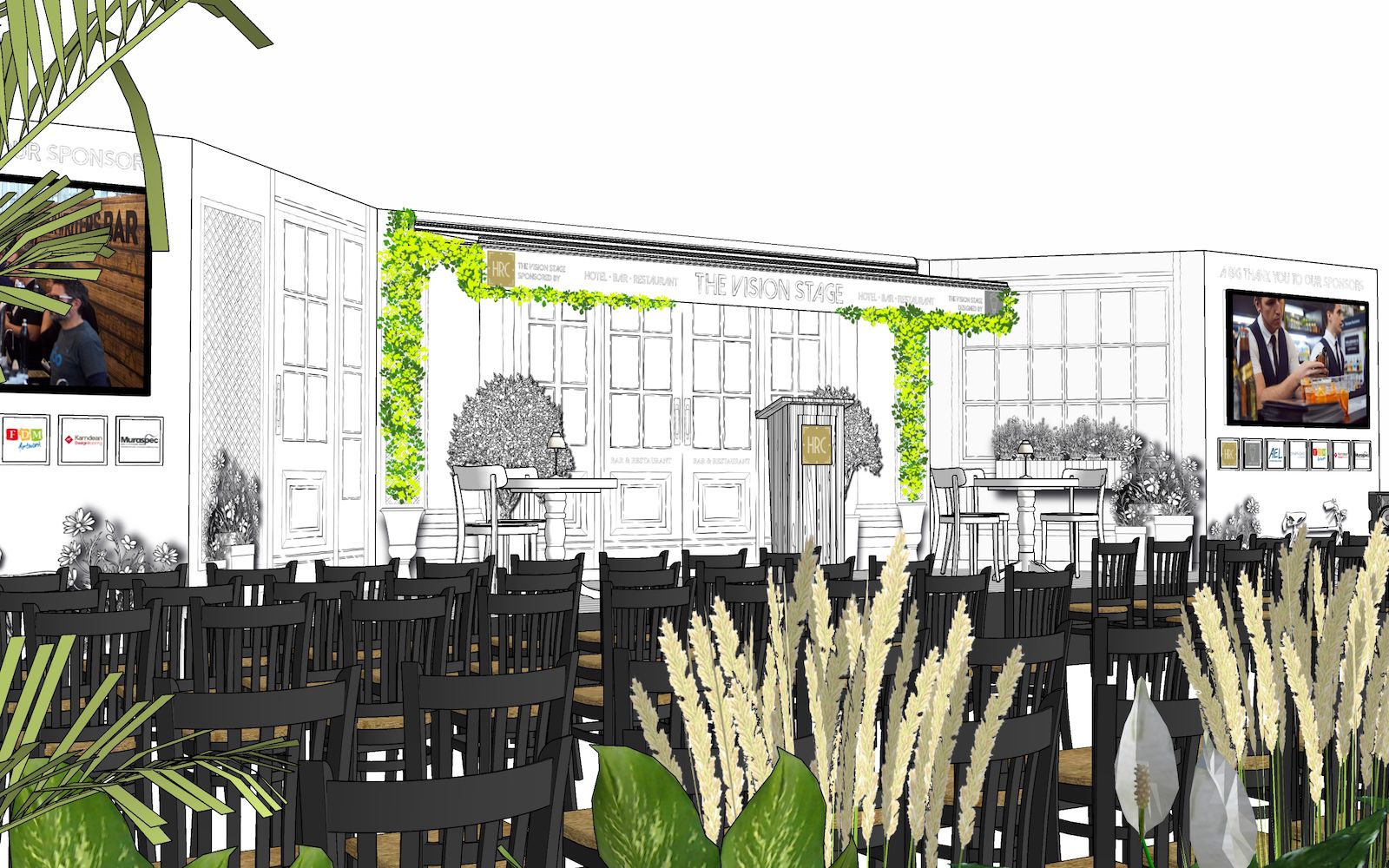 Ahead of HRC 2022, Harp Design has unveiled the striking look for the show's vision stage: an immersive café design, drained of colour and bringing a 2D cartoon to life. HRC caught up with Harp Design to learn more about the agency and the design for the stage.
Tell us a bit about your agency: what's the story of the business and what services do you provide?
Hayley Roy started Harp Design (formally Harp Interiors) in 2013 after working in a variety of places and has taken it from strength to strength; Harp Design is a business focused, commercial design and refurbishment company. It assists its' clients in a way that suits them. Harp prides itself on getting to know their clients and their business so they feel comfortable throughout the design process.
The team at Harp are committed to helping their clients get more, offering a brand, design, and layout service, as well as commercially viable advice for their space with a project management service to bring the space to fruition. They create and develop brands that have meaning and impact as well as designing beautiful, refreshing spaces that will help businesses thrive.
What are some of the major trends you're seeing in hospitality design projects?
There are multiple trends coming in strong in 2022. We've seen a massive trend in biophilic design, bringing plants inside, connecting the inside and outside of spaces and using more organic materials such as woods and marble.
Bold patterns and colours are also coming in in wallpapers that are reminiscent of the 60s and 70s, geometric grid patterns and vibrant colours like greens and lavenders.
The main trend of 2022 is sustainable design, all designs need to be more aware of the long-term health of our eco system, ensuring materials are ethically sourced and upcycled or repurposed where possible to make them last longer.
What builds a strong designer-client relationship?
Lots of factors come together to create the ideal designer-client relationship. We think that before the design element comes in, the following are the key elements to a strong relationship:
Listening to not just what the client openly says they want, but also what they need from how they're speaking and talking about their project and reading between the lines.

Understanding the main elements of the projects and the client's boundaries on the project

Being relatable to the client, ensuring they know you understand what they want and need from you and their end project

Finally, making sure that communication is open and honest between. Honesty doesn't just make the project run smoother, but it also shows respect between the client and designer.
Tell us about the design you've created for HRC 2022
We decided to look at this design in a different way, looking at how life and design has changed since Covid; And from this the concept for the Vision Stage was born.
Our worlds have been flipped upside down from the pandemic and from this we have all had to rethink everything we thought we knew. Comparable to everything being burnt to the ground and rising from the ashes, we've drained the stage of colour. The bright greens and yellows of the plants then represent new growth and the changes we are all embracing in our new day to day life. It's a fresh start, it's something different and it's time for new ideas to be heard. We're letting new ideas, new ways of working and new experiences shine, and take centre stage.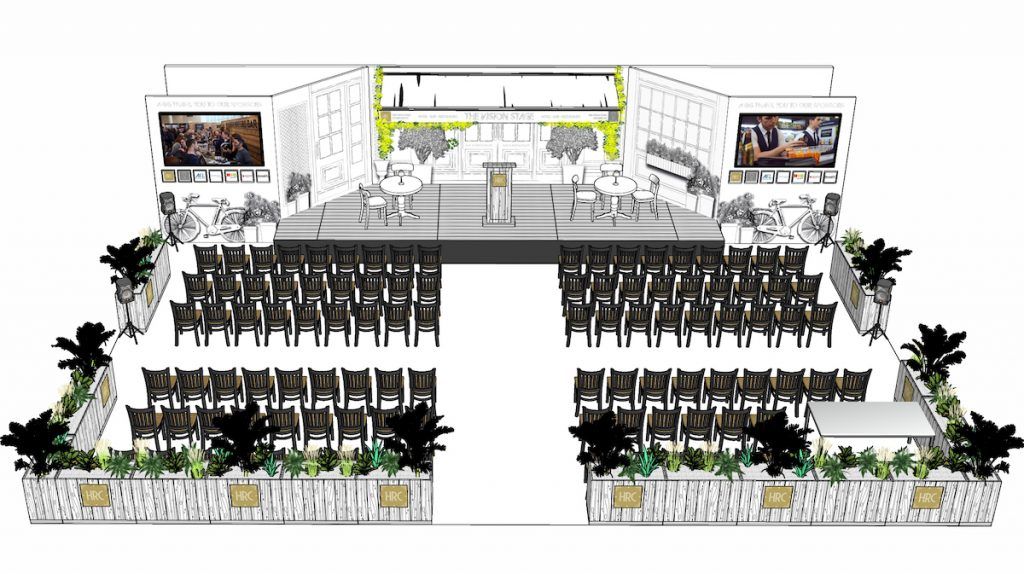 We've made the stage an immersive experience, showing the change from 2D cartoon to real life interactive 3D life, and allowing it to all blend together seamlessly. The stage is made of a mixture of real-life objects like the chairs and tables along with faux flowers and printed backgrounds. Our goal was to show we can expand the limitations of 2D drawings. From everything we've learnt during the pandemic, we are all looking to the future, feeling optimistic and excited about what is next to come.
Supplier partners for the Vision Stage at HRC include AEL, FDM Artwork, GS Contracts, Kaelo, Karndean, Leaflike, Muraspec and Symphony & More.
Why should hospitality business owners meet you at the show?
Harp Design is a friendly, business focused, commercial design and refurbishment company, who assist you in a way that suits you. If you work with us, the team will take the time to get to know you and your business, so that we help you in the way you feel comfortable.
From brand to build, you get assistance to ensure your project runs smoothly, working with experienced people who really care about your business.
Harp is very inclusive as a company, thriving on sharing ideas and using the office like a giant scrapbook of information. It is a team of listeners who will deliver a design that works for you and your business. You will find that Harp becomes an extension of your team that creates designs that compliment your branding and style.
Meet Harp Design on Stand T529, where they will be offering free design consultations for potential clients.